At Plansmith, we focus on not only helping our clients with preparing an annual budget, but identifying the action items involved in making the plan come to fruition. When you work all week helping banks and credit unions do a better job of planning, it's probably not uncommon to take a step away on the weekend and refresh the batteries.
But do we ever really stop planning?
Last year, shortly before COVID hit, I was making plans (there's that word again) to attend a concert at Chicago's Thalia Hall. Since this was a general admission show, my goal was to arrive early in order to be relatively close to the stage. If you're a bank or credit union CFO, think of this as my desired ROI.
In order to hit my target, I had to consider a number of factors, which we can call my "base case." My dinner reservation was at 6:30 pm, the doors opened at 7:30, and the show began at 8:30. Now, I can't change factors two and three, but what about factor one, my dinner reservation? My desired time, 6:00, was unavailable, so perhaps I should run an alternate scenario. What if I show up at 6:00 and see if I can be seated earlier? I assigned my wife an initiative, which was to be ready to leave the house at 5:00 (full disclosure, there was plenty of back and forth conversation before both sides agreed to the ideal departure time, then I assigned the initiative).
We arrived right at 6:00 and were immediately seated - it looked like I was running my "best case" scenario for the evening. Now, best-case scenarios don't always happen and sometimes they're based on economic conditions at the time. In my case, the biggest factor was how many people were going out to dinner on a Saturday night.
I should mention that Dusek's Tavern is on the ground floor and the theater is upstairs (also, the food is really good). Around 7:00, I noticed that the line to get into the theater was forming, as I could see my fellow concertgoers outside the window of the restaurant. At 7:20, I paid the bill and it was time to go outside and get in line. As we put on our coats, my wife noticed a very small line had formed at the back of the restaurant. I mention that it was my wife who saw the line, because usually, the best plans are executed by a team. It turns out that if you had dinner at the restaurant, you get entry to the theater before the competition (that's my name for the people standing outside on a cold January night in Chicago).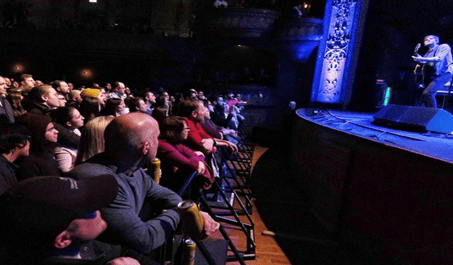 At this point, I decided to reforecast my goal of being relatively close to the stage and set my sights on the front row. I realize that when it comes to planning, our clients need to consider things like loan growth, maturities, prepayments, and rate environments to hit their targets. On this Saturday night, I was working with a very different set of moving targets, but at the end of the day, doesn't it all come down to executing a well-thought-out plan?
If you're curious how Plansmith can help you plan to achieve your targets, click here to schedule a discovery call.